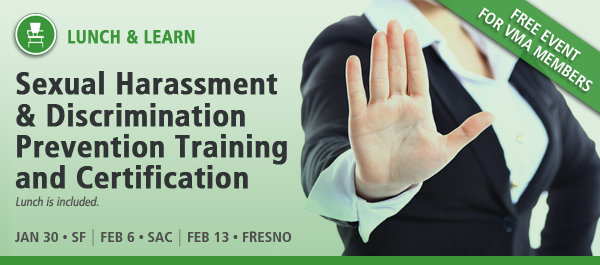 Although the state only requires employers with over 50 employees to provide the training, Sexual Harassment & Discrimination Prevention Training is strongly recommended for all California employers regardless of the size. Everyone in a supervisory, management or perceived supervisory role should be trained to prevent sexual harassment and discrimination. VMA's Human Resource consultant, Richard Lord, will present training that meets the State's requirements for AB1825. Attend this 2-hour training over lunch and receive a certificate of completion.

PRESENTER
Richard Lord, VMA's new HR consultant, is the founder and principal consultant for Solutions Human Resource Group, Fresno. Richard has extensive knowledge in the administration of human resources and employee benefits gained through four decades of hands-on experience. Over the course of his career he has planned and led the development of all major focus areas within Human Resources. This includes work in employee benefits, vompensation, wage and hour administration, employee relations and recruitment. In addition, VMA members also have access to human resource assistance through Doug Moore and PIA's Jim Kyger.

QUESTIONS & MORE INFO
Please contact Laura Vargas at Laura@VMA.bz or (415) 489-7625.